October 16, 2009
Alister Doyle goes full retard
Heh
First there is this "smoke" from a "chemical plant"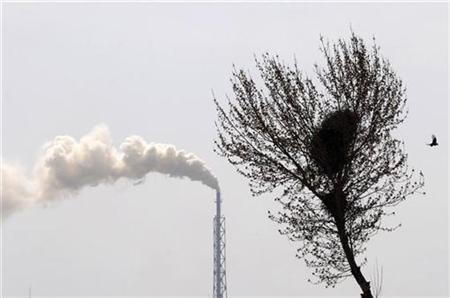 Looks like steam to me, and with all the problems Reuters has had with fauxtography it probably isn't even a chemical plant.
Doyle then confuses the very old and unpopular "global warming" cliche with the more recently discredited meme of "climate change"
"A U.N. climate panel report in 2007 said that cuts would have to total 25-40 percent to avert the worst of climate change such as more wildfires, sandstorms, extinctions, rising ocean levels and more powerful cyclones."

Once you start an article like that you might as well close with the big lie:
"President George W. Bush formally dropped Kyoto..."
Always nice to see the many layers of fact checking at Reuters in action.

Posted by: ElChupacabra at 03:47 PM | Comments (2) | Add Comment
Post contains 130 words, total size 1 kb.
1
And the bird is quite happy building its nest near the plant. Facts don't matter to environmentalist whackos of Doyle's ilk.
Posted by: ElectronTubes at October 21, 2009 11:04 AM (kxJB8)
2
Calling it 'steam' is just as bad as calling it 'smoke'. There is no way to identify the contents of that substance by sight.
Posted by: ArmedGeek at February 15, 2010 02:20 AM (Yf8V2)
Comments are disabled. Post is locked.
6kb generated in CPU 0.14, elapsed 0.1094 seconds.
24 queries taking 0.068 seconds, 30 records returned.
Powered by Minx 1.1.6c-pink.